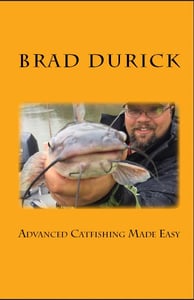 $

10.99
Advanced Catfishing Made Easy is a one stop shop to catch catfish. This system is designed to allow you to look up the weather and water conditions in preparation for your fishing trip. It is then broken down by the region in which you are located within the United States. From there it breaks down the seasons that a catfish follows every year and breaks down the weather and water conditions within each of those seasons.

You simply match your local conditions to the season follow the simple approach to find the pattern that the fish are on at the time. Call it a "pick your own adventure" catfish book.
"Here, in Advanced Catfishing Made Easy, Durick offers a vest-pocket guide to solving problems you face in the field, with a system that makes perfect sense and is easy to put into play, no matter where you fish in North America. It's like having an expert in the field with you, your mentor and friend, helping to ensure that you fish with confidence and success. Good fishing to you. Harvest catfish selectively and have fun."- Doug Stange, Editor In Chief, In-Fisherman
*Sorry no Canadian Orders.